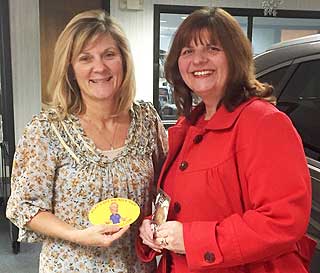 On Thursday, December 10, the prize drawing for the "I Spy Mr. Nice Guy" Holiday Cash Contest was held at Conicelli Autoplex in Conshohocken.
The winner of the $500 gift card was Jeanette Berstein of Eagleville. A three-time Conicelli customer, Ms. Berstein was spotted by Conicelli management with an "I Spy Mr. Nice Guy" magnet on her car, winning her a $20 gift card immediately and which entered her into the "Win Holiday Cash" contest.
Don't think that just because we've wrapped up this contest that there are no more chances to win. Conicelli management is constantly on the lookout for "I Spy Mr. Nice Guy" magnets on vehicles so we can give the driver a gift card.
Will you be one of the lucky winners? All you have to do to win a gift card is keep an "I Spy Mr. Nice Guy" magnet on your vehicle and get spotted. Our managers are all over the region, so you could get spotted anywhere!
Get a magnet at any of the Conicelli sales or service departments, or fill out the form on the
contest page
and we'll mail the magnet to you.
Remember, you need a magnet on your car to win!