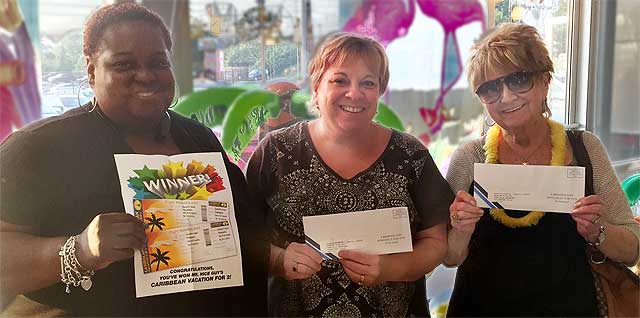 From left, Grand Prize winner Sherri Ellis Mason, 3rd Prize winner Kim Curtis, and 2nd Prize winner Margot Taitleman.
On Tuesday evening, July 28, Sherri Ellis-Mason of Blue Bell, PA was the Grand Prize winner of the "
I Spy Mr. Nice Guy 2015 Caribbean Vacation Contest
", held by Conicelli Autoplex. The Grand Prize was a vacation for two at any of 22 resorts in the Caribbean, valued at up to $2500. Margot Taitleman of Plymouth Meeting won the 2nd Prize of a $350 gift card and a $150 gift card went to 3rd Prize winner Kim Curtis of Philadelphia.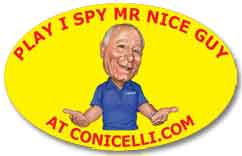 Contestants had been entered into the contest simply by being spotted with an "I Spy Mr. Nice Guy" magnet on their car. All of the hundreds who were spotted were awarded a gift card and invited to the big beach-themed party where the winner would be chosen from the attendees. The party was held in the Customer Lounge area of the big new high-tech Toyota Service Center on Alan Wood Road. (Check out the big photo album of the party on the
Conicelli Autoplex Facebook page
!)
By the time 7:00 rolled around, over 100 contestants, friends, and family were present. Refreshments, snacks, and food were available, and host Lori Hammond, director of internet sales for Conicelli Autoplex, kept the crowd busy with games, giveaways and raffles in anticipation of the big drawing.
How did these lucky winners do it? By keeping their "I Spy Mr. Nice Guy" magnets on their cars! Keep yours visible and you can be spotted, too! We're always looking and giving out gift cards, even if there's not a big contest running! If you don't have a magnet, call or stop in at any Conicelli dealership or
visit our website at Conicelli.com/contest-details.htm
, fill out the form, and we'll mail it to you.
We're already working on the next contest ideas, and we'll be announcing it soon. Like we say, "Get your magnet, get spotted, and start winning"!
It just takes you being spotted by Conicelli management to win a gift card and be entered into I Spy Mr. Nice Guy's next contest.


Stop by any Conicelli dealership,

call 1-888-Conicelli or
use the form at right to get your magnet.
It's the only way to win!