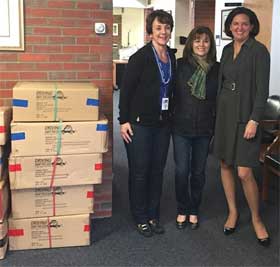 After September's "Driving Away the Cold" campaign where the Conicelli dealerships in Conshohocken and Springfield pledged nearly 1500 coats, the drive has wound down just as the cool weather is approaching.
Last week, Conicelli Autoplex employees visited Carson Valley Children's Aid in Flourtown to deliver 762 coats, and Chester's Frederick Douglass School for 288 coats.
Donna Conicelli McNally, Director of Human Resources at Conicelli Autoplex, this week delivered donations of 66 new, warm winter coats to Norristown's Missionaries of Charity, and 54 coats to the Norristown Area School District.