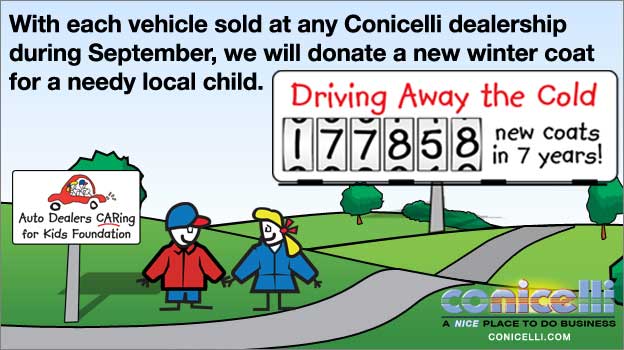 The Conicelli dealerships in
Conshohocken
and
Springfield
are geared up for another September focused on donating new winter coats for needy local kids.
As in past years, each Conicelli dealership — the Honda, Hyundai, Nissan, and Toyota dealerships that comprise Conicelli Autoplex in Conshohocken, plus Conicelli Toyota of Springfield — will donate a new winter coat to a needy child with each car sold during the entire month, through the Auto Dealers Caring for Kids Foundation's "Driving Away the Cold" program.
In 2014, the Conicelli dealerships donated over 1,000 new winter coats to the program out of a total of over 37,000 donated by local car dealerships. Among the organizations receiving coats last year through the Conicelli donations were: 696 coats to Carson Valley Children's Aid in Flourtown; 270 coats to Macedonia Baptist Church in Norristown; and 60 coats to Norristown's Missionaries of Charity.
In October the Auto Dealers Caring for Kids Foundation will host a massive special day of giving at the Pennsylvania Convention Center, where thousands of brand-new winter coats will be distributed to students from throughout the Philadelphia School District.
In just seven years, the program has given the gift of a new winter coat to nearly 178,000 children. The Conicelli dealerships have eagerly participated in the program, and hopes are high that the donations this year will continue the pace of growth seen in the past.
For more information on
Caring for Kids
, or to volunteer, visit http://www.caringforkids.com.