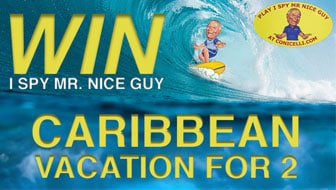 The latest contest at Conicelli Autoplex, the "I Spy Mr. Nice Guy Caribbean Vacation Contest," has just begun!
Until the contest ends on August 31, 2016, if you're spotted with an I Spy Mr. Nice Guy magnet on your vehicle, we'll give you a gift card and enter you in the prize drawing.
There will be a Grand Prize of a Caribbean vacation valued at up to $2500 — and you'll get to choose from great vacation resorts in Punta Cana and Cancun.
Second prize will be a $350 American Express gift card, with third prize receiving a $150 gift card.
The prize drawing will be held on September 13 at 7:00 p.m. in the Conicelli Toyota Service Department's Customer Lounge.
For complete information on the I Spy Mr. Nice Guy Caribbean Vacation Contest, visit
Conicelli's contest page
at
http://conicelli.com/contest-details.htm
. On that page you can read about past contests and winners, fill out a simple form to order your magnet, or see the complete rules of the contest.
Don't wait! Make sure you've got a magnet and that it's on your car. Mr. Nice Guy will be searching for his next big winner all over the Philadelphia area.