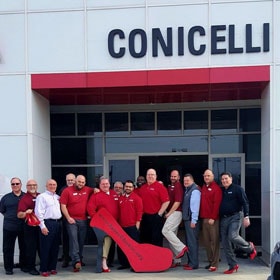 CALLING ALL MEN! Conicelli Autoplex and Laurel House invite you to join us on Saturday, May 6, 2017 as we prepare for our
6th Walk A Mile In Her Shoes® event
. Walk A Mile In Her Shoes® is the International Men's March Against Rape, Sexual Assault and Gender Violence.
As Montgomery County's only comprehensive domestic violence agency, we know that each year thousands of women in our community are victims of domestic violence and sexual assault.
Did you know? Montgomery County has the 4th highest rate in Pennsylvania of domestic abuse fatalities over the past 10 years?

Conicelli Autoplex is proud to be the Presenting Sponsor
for this year's event! Join employees of the Conicelli dealerships and people from throughout the region for this important event raising awareness about domestic violence issues.
Event Information
This year's event will be held on
Saturday, May 6th at Heebner Park
in Worcester PA (just outside of Lansdale). We are thrilled to announce that our friend, Preston Elliot of Preston & Steve will be joining us again as the event emcee!!
Online registration
is available until Thursday, May 4th at 11:55pm. All participants who register before April 12, 2017 will be guaranteed an event t-shirt and shoes (heels for men only, women feel free to come in your own sneakers).
PLEASE NOTE: For those who register online between April 13th and May 4th, although we will make every attempt, there will be NO GUARANTEE of an event t-shirt or shoes.
And, gentlemen...since the event is just a week before Mother's Day you have the option of donating an additional $20 in honor of that special woman in your life. We will be happy to send her a card letting her know of your generous gift in her name. If you choose this option there will be a box as you register called Mother's Day Special. Please fill out the name and address of the woman (women) to whom you would like us to send an acknowledgement card. There is no better way to honor your mother, wife, or another special lady in your life than by participating in her honor.
REGISTRATION BEFORE APRIL 12TH IS STRONGLY ENCOURAGED!
Day of Activities:
Guest speakers who will talk about men's role in working to end domestic violence.
Awards for biggest team, most money raised by a team, most money raised by an individual & more!
Music, refreshments, children's activities and more!
We can't wait to see you there!