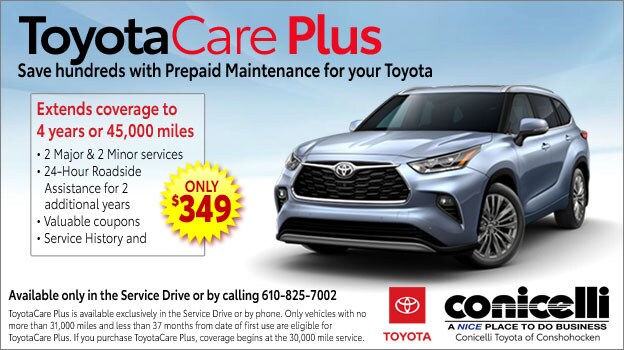 With ToyotaCare Plus, you have options
Every eligible new Toyota comes with a maintenance plan that covers you for 2 years or 25,000 miles - at no cost.
Conicelli Toyota of Springfield also offers ToyotaCare Plus, with more protection for longer, up to 4 years or 45,000 miles from date of first use. (Date of first use is when your vehicle is retailed as new with less than 799 miles.)
ToyotaCare Plus is available exclusively in the Service Drive or by phone. Only vehicles with no more than 31,000 miles and less than 37 months from date of first use are eligible for ToyotaCare Plus. If you purchase ToyotaCare Plus, coverage begins at the 30,000 mile service.
ToyotaCare Plus Coverage includes:
Major and minor services
Coverage of two major services (30,000/45,000) and two minor services (35,000/40,000). (Coverage may vary by vehicle.)
24-Hour Roadside Assistance
Stay protected with 2 additional years of Roadside Assistance
Valuable Coupons
Valuable coupons and offers for significant savings on selected maintenance services
Service History and Reminders
Service history and reminders to help track service visits and vehicle maintenance
Depending on the vehicle, customers may save from $90 to $125 by purchasing ToyotaCare Plus ahead of time instead of paying for individual services. In addition, they get two additional years of Roadside Assistance, valued at $266.
Cost of ToyotaCare Plus
The plan described on this page, for 4 years or 45,000 miles of coverage beyond ToyotaCare, is only $349!
How to get ToyotaCare Plus
ToyotaCare Plus is only available two ways: in the Service Drive when you arrive for service or by calling
Toyota Service at 610-690-6000.